OceanHub Africa, an African-based ecosystem enabler and startup accelerator, hosted its opening event on February 26th, supported by Wesgro, the French Embassy and the V&A Waterfront. OceanHub Africa (OHA) is on a mission to inspire and support scalable ocean-minded businesses and nurture an environmentally conscious and profitable economy that effectively mitigates the effects of global warming as well as the overexploitation and pollution of the oceans. The inauguration took place at the hub's new workspace at The Avenue.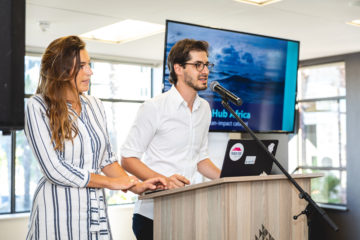 Stephanie Canac & Alexis Grosskopf, co-founders of OceanHub Africa
Applications are now open for the first cohort of OHA's six-month acceleration programme that will enrol six of South Africa's most promising impact for profit startups focused on preserving and restoring the health of the ocean. OceanHub Africa is calling all qualifying entrepreneurs seeking an equity-free acceleration program to apply.
Leveraging its highly qualified network of stakeholders and facilitators, OHA will deliver an acceleration programme that seeks out sustainable pathways yielding stable profits (ROIs) and avenues for scalable growth throughout Africa, supporting the Sustainable Development Goal 14 – Life Below Water. Startups accepted into the programme will have physical working space, access to tailored mentorship, business and scientific expertise and access to market leads.
The Waterfront's Executive Manager for Strategic Relations and HR, Bobby Stewart, was on hand to give the welcome and opening remarks. "The partnership with Ocean Africa Hub will mirror the approach we have chosen to integrate into our business strategy, that of Shared Value…..identifying and addressing social problems that intersect with our business, and adopting a business ecosystem outlook that frees us to work co-operatively to innovate, learn and adapt to meet the needs our customers and planet.
We are proud to be the home of Africa's first Oceans Innovation Hub for ocean-minded businesses and are committed through our SOLVE initiative and our broader ecosystem to support the success of this initiative."
SOLVE, an initiative of the V&A Waterfront, is aimed at prototyping innovation and knowledge hubs for issues facing African cities, such as Ocean Sustainability. We will share more about this initiative soon.