The V&A Waterfront is an iconic mixed-use destination located in the oldest working harbour in the Southern Hemisphere. With Table Mountain as its backdrop, the 123-hectare neighbourhood sits within the beautiful city of Cape Town, welcoming millions of people from all over the continent and the rest of the world. The V&A is a symbol of heritage and diversity, where people from all walks of life can play, live, shop, dine and work while immersed in the vibrant spirit and authentic local culture that exists in this bustling ecosystem.
It sees its role on the continent to be a platform that facilitates and champions art and design, to support entrepreneurship and innovation, lead the charge on sustainability, and drive positive social and economic change. By prioritising people and the planet, the V&A is an example of how working with communities, respecting the environment and operating with passion and integrity is a better, more productive and kinder way of doing business.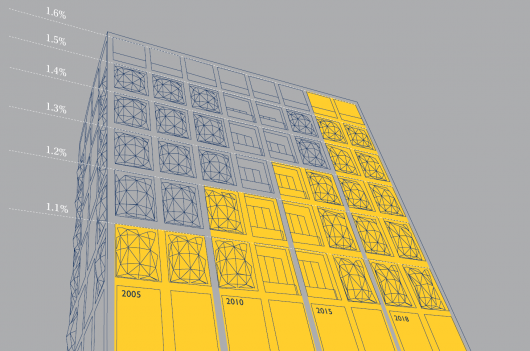 The fourth instalment in our bi-annual economic impact report quantifies the economic contribution made by the V&A Waterfront to Cape Town and the country. It shows an incredible, accelerating upward trajectory.
Highlights illustrate:
The Waterfront's 2018 contribution to direct GDP was R9.3bn and R31.5bn to total GDP, while the cumulative contribution since 2003 was R76bn to direct GDP and R255bn to total GDP.
In 2017, economic activity grew in real terms by an astonishing 13.5%, compared to (calendar year 2017) the Western Cape GDP growth of 0.5% and the country at 1.5%.
There were 23 000 people working at the V&A Waterfront itself, while total employment (including indirect jobs) was 66 000.
Highlighting the increasing focus on enterprise development and start-ups, there were 396 businesses operating in this sphere, with a total turnover of R329m. Average firm turnover was R1.5m, while more than 2 800 people owed their livelihoods to enterprise development and start-ups. Download the 2018 Report
It is also the operator of the newly upgraded Cape Town Cruise Terminal – within walking distance of Zeitz MOCAA. The V&A is jointly owned by Growthpoint Properties Limited and the Government Employees Pension Fund (GEPF), represented by the Public Investment Corporation Limited (PIC).
Download the latest economic impact study, which quantifies the economic contribution the V&A Waterfront is making to Cape Town and to South Africa as a whole.