COVID-19 ANNOUNCEMENT (Updated 23 March) 
COVID -19 (CORONA VIRUS) : HARBOUR and MARINA PROCEDURES        23 March 2020
Many of us are facing new challenges as the country puts measures in place to limit the spread of the Coronavirus (COVID-19). Its going to take a huge collective effort by all to prevent the virus from spreading and with new Government regulations the following steps have been implemented here at the V&A Waterfront.
All vessels wishing to berth in the V&A Harbour and all yachts wishing to berth in the V&A Marina, must have notified the Transnet National Ports Authority, (TNPA) Harbour Master 72 hours before arrival and ensure that all the necessary arrival notification documents have been completed.
All vessels and yachts wishing to make use of V&A berths must notify the V&A Waterfront after completing step 1 above. Communication for vessels via shipping@waterfront.co.za and yachts via yachtoffice@waterfront.co.za
All international vessels and yachts visiting the Port of Cape Town, (including the V&A Waterfront), must be cleared by Port Health and obtain Free Pratique prior on arrival at Cape Town. Failure to arrange such clearance or non-adherence to the above will result in the vessel or yacht being denied access by Port Health, the TNPA Harbour Master and the V&A Waterfront.
Timeous arrangement must be made in advance for those that are arriving during weekends or night time when Port Health's offices are closed. No personnel will be allowed off the vessel prior to receiving Free Pratique. All night time arrivals will be required to go to anchor until daylight when the Authorities are able to carry out arrival procedures or as instructed by the Authorities.
Vessels and yachts will be required to go to anchorage whilst awaiting clearance to enter the V&A Waterfront. Once approval has been granted an isolation berth will be allocated. Yachts will be at the ISPS holding berths located at North Wharf and larger vessels at the ISPS cleared Jetty Two in the V&A Harbour.
No crew or passengers will be allowed off the vessel or yacht prior to receiving Free Pratique from the Port Authorities.
The V&A Waterfront must be included in all correspondence to the various government departments and stakeholders, via shipping@waterfront.co.za and yachtoffice@waterfront.co.za
No personel may approach or board the yacht until the all clear has been issued by Port Health.
The above procedure is effective immediately and will remain in force until advised otherwise.
These procedures are subject to change at short notice and it is important that you stay in contact with the Port and the V&A Harbour and Marina before your arrival.
Kind regards,
Andre Blaine
Executive Manager Marine and Industrial
The Port of Cape Town lies in the shadow of Table Mountain, approximately 120 nautical miles north west of Cape Agulhas – it is strategically positioned almost at the southern tip of the African continent.
The port serves cargoes moving between Europe and the western hemisphere and the Middle East and Australia, especially containers. Over the centuries Cape Town has evolved from a staging post on a major east-west trade route into a modern, full-service general cargo port renowned for deciduous fruit and fish exports. Modern facilities required by shipping traffic are all on offer here.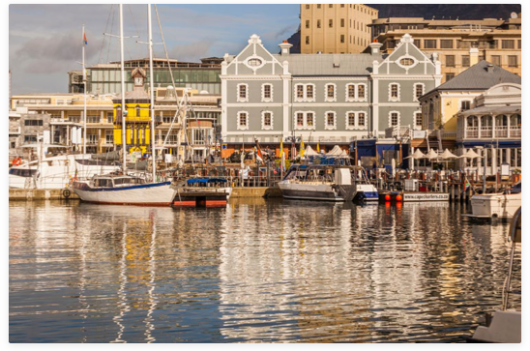 Working hours
Port Control – For emergencies and handling of ships – 24 hours a day, 365 days per year.
Cartage – 24 hours per day.
Breakbulk – 06:00 – 22:00, Monday to Friday.
Containers – 24 hours a day, 362 days per year (not 1 January, 1 May and 25 December).
Office hours - (including Revenue) 08:00 to 16:30 Monday to Friday, not public holidays.
Tankers are restricted to daylight berthing and unberthing. Under certain circumstances, vessels with a double hull will not be subject to these conditions.
Dry dock repair facilities
Transnet National Ports Authority owns and operates two dry docks, a repair quay and a synchrolift.
Robinson Dry Dock - Situated at Victoria Basin, overall docking length 161,2 m, length on bottom = 152,4 m, width at entrance top 20,7 m, maximum width at bottom = 17,2 m, depth over entrance sill HWOST = 7,9 m.
Sturrock Dry Dock - Situated at Duncan Dock, overall docking length 360 m, length on bottom (dock floor) = 350,4 m, width at entrance top = 45,1 m, maximum width at bottom (dock floor) = 38,4 m, depth 14 m, depth over entrance sill HWOST = 13,7 m. A docking length of 369,6 m can be achieved by placing the caisson in the emergency stop at the entrance. The dock can be divided into two compartments of either 132,5 m and 216,1 m or 205,7 m and 142,9 m.
Repair Quay Length 456 m, landing wall 548 m.
SYNCHROLIFT can handle 1 806 tonnes and vessels up to 61 m in length and 15 m in width. Repair lanes available (length) = 2 x 70 m, 1 x 55 m, 2 x 75 m.
Work is undertaken by private companies and services include, ship repair, engineering, refrigeration, hydraulics, cleaning and painting.