Three of the country's coolest entertainers are getting together and inviting you into their homes for this Collaboration Edition livestream concert this Friday, 8 May from 7pm.
The concert is the last in the V&A Waterfront's Good Night Fridays livestream series for May.
Popular rapper YoungstaCPT is teaming up with well-known DJ producer Sir Vincent who will act as MC for the night. They will be joined on the night by the talented mural and graffiti artist Skubalisto who will be creating one of his masterful pieces during the show.
While the concert is free, we ask viewers and fans to please consider making a donation to our busker community who are doing without income during the coronavirus lockdown. All funds raised will go towards the Busker relief fund.
Featured Artists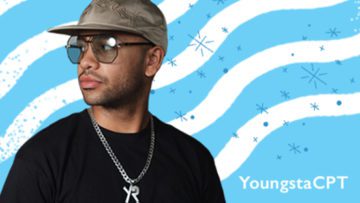 Youngsta CPT has 30 mixtapes and numerous EPs and accolades under his belt. YoungstaCPT is regarded as one of the most important South African emcees of this generation, and he describes his sounds as "Kaapstad. "If you have ever been to Cape Town you can listen to any one of my CDs and you will understand me and the place I grew up in. I am like your unofficial tour guide. I am not going to take you to Table Mountain with a cable car, but I will take you via another angle… a side that you have never been to before. I'll give you the other view and perspective of where I am from. To have so much content around you all the time while growing up in Cape Town, as a result, my style is different, my tone is different because the slang that we use is different…I don't sound like any other rapper."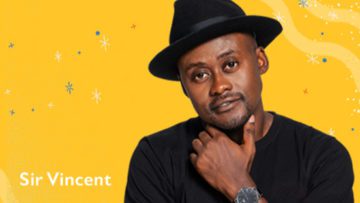 Sir Vincent is a DJ, producer, social entrepreneur and speaker. His musical journey began in 2006 by observing DJs performing at high school parties, talent shows and functions. While honing his new found craft, a year later he was rubbing shoulders with industry legends. Vincent founded the first DJ academy in Khayelitsha called Jump Start Music Academy. This was to open up the music industry to kids who do not have the resources and access to learn about DJing and eventually earn by making a living out of it. Sir Vincent has also performed a Boiler Room set with local music guru Black Coffee in Amsterdam.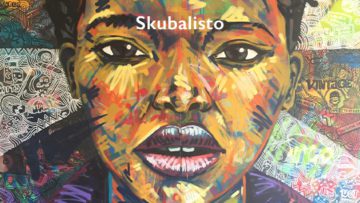 Skubalisto aka "Skumbuzo Vabaza" is a visual artist from Cape Town who primarily creates portraits in a contemporary expressionist style, channelled through muralism, wood boards and canvas. His mediums range from spray paint, acrylic, Oil pastel, charcoal and ink. "I find great interest in the power of suggestion, giving as much visual information as possible, with an indirect use of line and colour. The colour palette is preselected, directly connected to the energy radiated by the subject I'm painting. Although my colours are premeditated, I still use them in a completely spontaneous manner, relying more on feeling rather than technical accuracy. The organized chaos that is the basis of life on earth has become the foundation of my creative process. I always have an idea of what I want to say with the painting, but I make sure to embrace the unpredictable errors that come with its creation. Welcoming imperfection and often using it as a portal to looking at things differently and a tool for learning new techniques."
About the V&A Waterfront Busker Programme
The V&A Waterfront is home to Cape Town's vibrant and talented busker community, and for over 20 years has provided them with a regular public platform to perform and earn a living, as well as providing programmes for training, mentoring and developing their craft. Since the lockdown, the V&A has continued providing financial support to our buskers to cover the loss of earnings from passing visitors.