In our Summer Magazine, we promised the recipes for our tasty food section. Read on to discover the secrets to Nicky Mullinos' gourmet boerie rolls, Brett Michielin's Bongo Bongo cocktail, Sam Woulidge's chilli chocolate cake, Phillippa Cheifitz' African Caesar salad and Clement Pedro's seafood paella.
BOERIE ROLLS WITH HOMEMADE CHAKALAKA RELISH
From Nicky Mullinos Chef and Co-Founder of Afrika Bites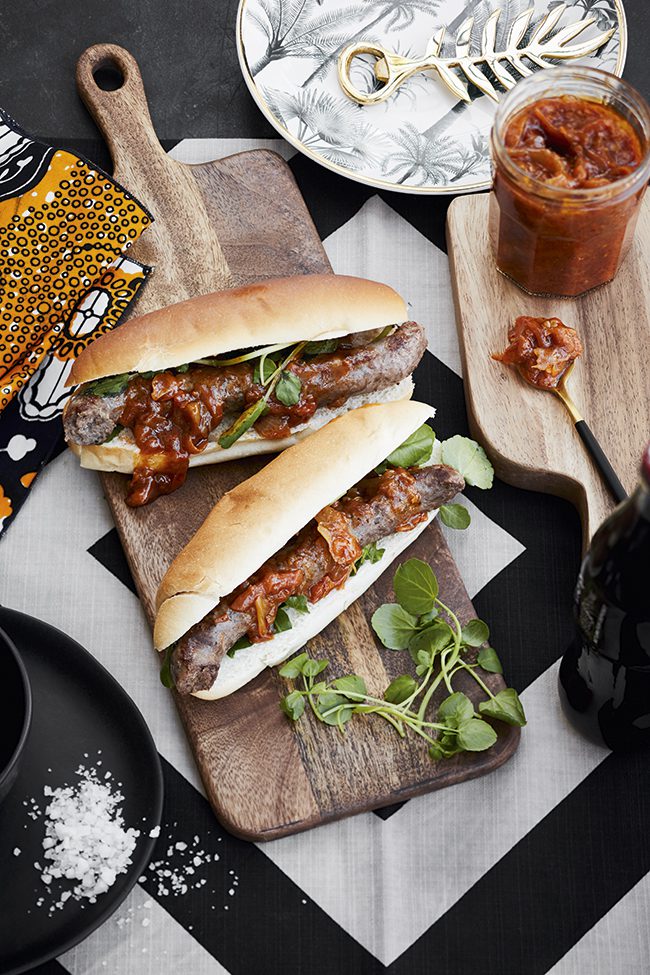 Boerewors and Hot Dog Rolls to serve 12 (I always make extra!)
For the Chakalaka Relish:
• 1 Onion, chopped
• 1tbs curry powder of your choice
2 carrots, peeled and grated
1tbs sugar
1 cup beef, chicken or vegetable stock
6 tomatoes, chopped
Fry the onion in vegetable oil or butter until soft and caramelised. Add the curry mix and stir through thoroughly. Cook for two minutes. Add the carrots, sugar, tomatoes and stock. Reduce heat to medium and cook until you have a thick sauce, around 20 to 30 minutes. Stir regularly to prevent sticking. Braai or fry/grill your boerewors. Prepare the rolls and serve, spooning over generous amounts of chakalaka relish.
THE BONGO BONGO COCKTAIL
From Brett Michielin Founder and chef, Mozambik Restaurant Group mozambik.co.za

• 2 shots Roses Passion Fruit Cordial
• 12 mint leaves
• 3 shots vodka
• Ice
Place all of the ingredients in a blender and pulse until you have a slushie-like consistency (it's totally worth the brain freeze, promise!). Top with a few fresh mint leaves.
SO-EASY MEXICAN CHILLI CHOCOLATE CAKE
From Sam Woulidge Author, magazine columnist and TV presenter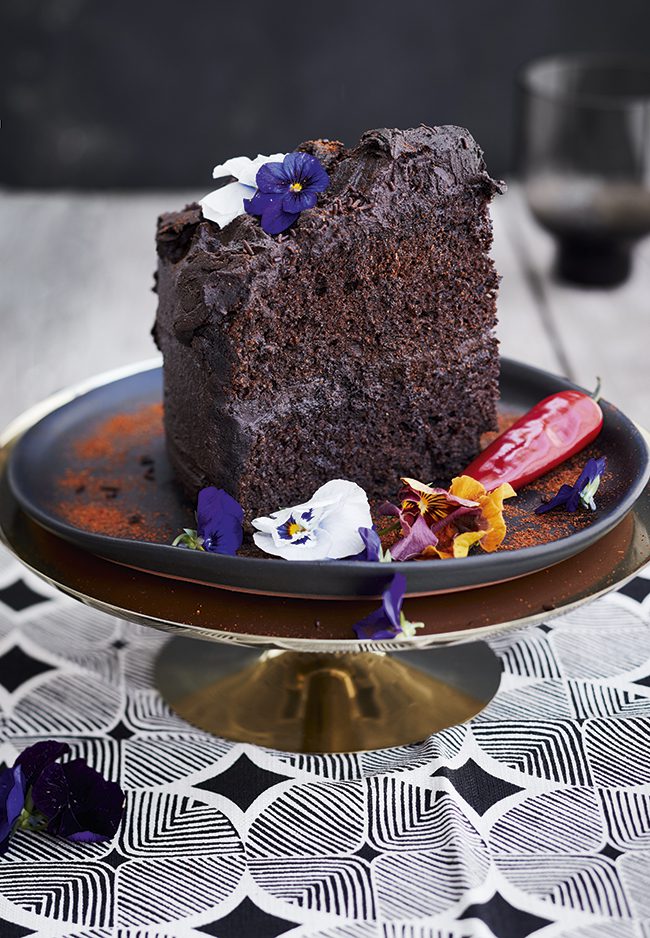 Buy a chocolate box cake and chocolate icing kit (I use the one from either Woolworths or Ina Paarman) and bake according to instructions on the box. But, instead of a cup of water use a cup of prepared, cooled black coffee. Then add a bit of chilli powder or cayenne pepper to the buttercream icing. Voila! Mexican chocolate cake!
AFRICAN CAESAR SALAD
 From Phillippa Cheifitz Celebrated cookbook author and food writer
Recipe adapted from the Monday To Sunday Cookbook, Penguin Random House)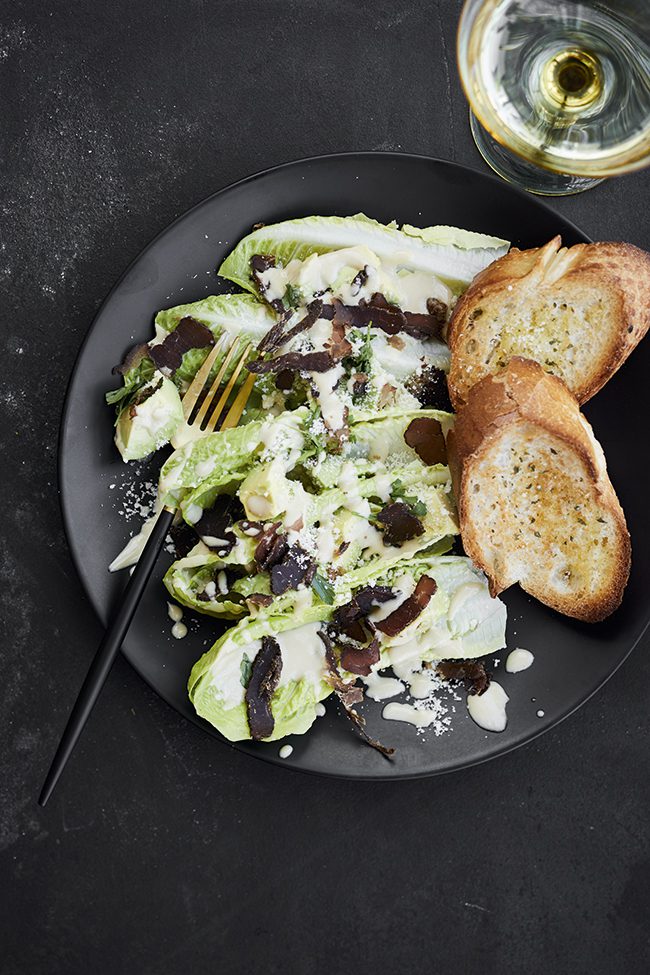 • 2 Cos lettuce (or more, depending on the crowd)
• 1 large avocado
• long shavings of moist biltong
• homemade garlic croutons (a baguette or ciabbatta and whole clove of garlic, skin removed)
• shavings of Parmesan cheese or hard Italian cheese
For the dressing
• 1 fresh free-range egg
• 3tbs fresh lemon juice
• 2tsp Dijon mustard
• 1/3 cup olive oil
• salt and black pepper
To make the garlic croutons Cut slices from a ciabbatta or French loaf, drizzle with olive oil and place in the oven at 180 degrees until golden and toasted. Once toasted and while still warm, rub with the clove of garlic on both sides. Set aside.
To make the dressing Place egg in boiling water for one minute. Then mix the coddled egg with the rest of the ingredients until you have an emulsified salad dressing. Check seasoning and adjust to taste.
Assemble the salad. Wash and dry the lettuce and place in a large bowl. Dress with half of the salad dressing and toss. Add the avocado, biltong and Parmesan cheese as well as the croutons. Drizzle over the rest of the dressing and give a good grind of black pepper. Serve immediately.
Festive Seafood Paella (serves 6)
From Clement Pedro – Chef, TV presenter, food stylist and Instagram influencer
This is a great festive season celebration dish. It's easily prepared on the stove and what makes it even better is that it's just as easily prepared outside, over coals, adding to the gees. Cooking this dish always seems to attract people to the kitchen or wherever you're preparing it, and even though it successfully feeds the masses, it's actually a budget friendly fix which is always a great thing over the festive season.
4tbs canola oil
1 large onion, diced
salt and freshly ground black pepper to taste
4 cloves garlic, finely chopped or grated
1 red pepper, finely diced
2tsp smoked paprika
2tsp paprika
1t ground cumin
21/2 cups Arborio rice (risotto rice)
2 cups chicken stock
3 cups water (extra if needed)
250g calamari tubes, cut into strips
1kg fresh mussels, in the shell
fresh parsley, roughly chopped
lemon wedges to squeeze over
salt and black pepper
Heat the oil over medium heat. I use a large paella pan but you can use a large frying pan or anything with a wide surface area. Add the onions and season with salt and freshly ground black pepper. Cook until golden brown and soft. You can reduce the heat slightly I you think that your onions are browning too quickly. Add the peppers and garlic and cook for about two minutes while stirring through the onions; stirring will help the garlic cook and become fragrant without burning.
Add the spices and mix through, combining with the other ingredients. If the pan looks a little dry at this point you can simply add another tablespoon of oil, then a little water as needed. After stirring the spices through the other ingredients for about a minute they should be toasted and fragrant enough for the rice to be added. Stir the rice through ensuring every grain gets coated in the spices and oil.
Add the chicken stock and water and give a final, gentle stir through making sure nothing is sticking to the bottom of the pan and all the ingredients are well combined. Bring to a gentle simmer and cook slowly allowing the rice to absorb all the liquid. Covering the pan with a lid will help this process work faster. After about 25 minutes of cooking the rice should almost be cooked through: it should still have a slight firmness in the centre, not to chalky though. If the rice still seems a little hard and you've run out if liquid just add about 1/2 cup of water and continue cooking for another 5 minutes.
Top the paella with the seafood, The heat of the cooking dish is enough to cook the seafood with the lid on. The calamari and mussels should cook in around five to seven minutes. If, after seven minutes of cooking any of the mussels have not opened, discard them. Sprinkle over freshly cut parsley and serve with wedges of lemon.