Unpacking the exhibition that unpacks one of Africa's most prolific artists: "Why Should I Hesitate: Putting Drawings to Work" opens at the Zeitz MOCAA.
Imagine being given the opportunity to intimately stroll through the psyche of an artist. Now, just imagine that artist is William Kentridge himself. Well, that's exactly the opportunity available right now, at the Zeitz Museum of Contemporary Art Africa. 
Running all the way to March 2020, Why Should I Hesitate: Putting Drawings to Work is the largest-ever survey exhibition by Kentridge, staging an overview of his entire oeuvre. A complimentary exhibition, Putting Sculptures to Work, is simultaneously hosted at the Norval Foundation. 
Internationally-acclaimed for his drawings, films, theatre and opera productions, William Kentridge's practice is born out of a cross-fertilisation between mediums and genres in a way that responds to the legacies of colonialism and apartheid. 
His drawings and the ways in which he "puts them to work" (particularly the dynamism of an erased and redrawn mark) is the artist's chief departure point, an integral part of his expanded animation and filmmaking practice. He draws from the medium of film's own history, breathing life into his work in a way that breathes new life into stop-motion animation and early special effects. 
It is a true pleasure and privilege to grasp this as you walk through the exhibition, an immersive adventure through the neighbourhood of Kentridge's own mind and a journey through his four-decade long art practice. As such, it's easy to become lost in the world of Kentridge, taking in his many charcoal drawings, woodcut prints, stop-frame animation, tapestries, installation and video. 
One of the highlights is the space dedicated to the role of studio practice in Kentridge's output, presenting him as a kind of 'mad scientist' or magician, his pen like a magic wand.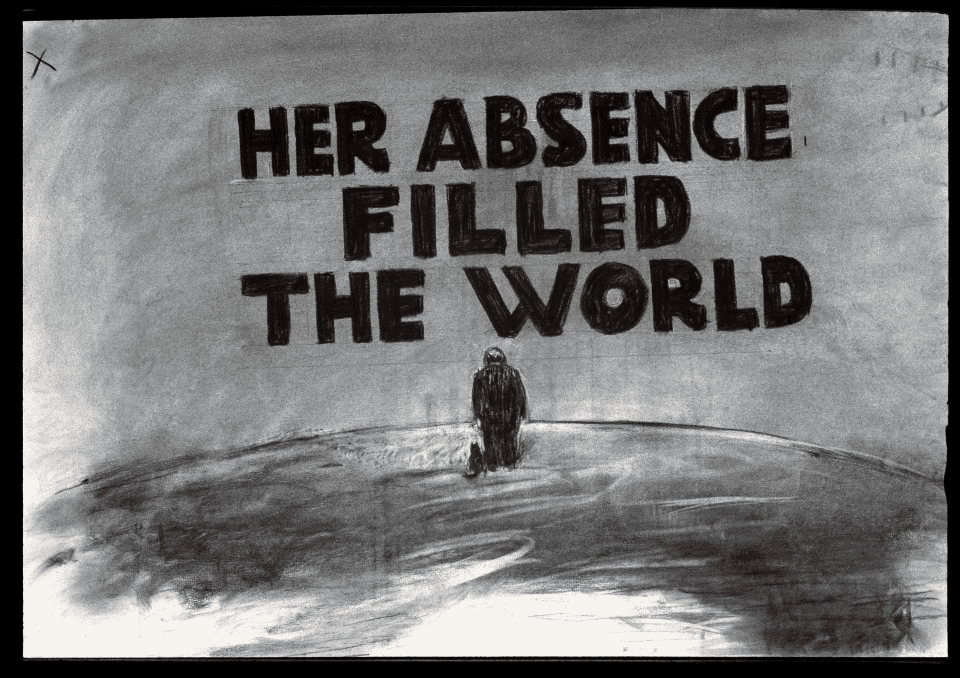 Unpacking this, Azu Nwagbogu (the exhibition curator) explains: "When conceptualising this exhibition, we wanted to do more than simply attempt to condense many of Kentridge's projects from his illustrious career into one space. It was vital to unpack Kentridge and reveal more of his processes and how two-dimensional forms assume life. We also wanted to offer a sort of 'backstage' view of the artist on his journeys and his experimentations, and sometimes at his most uncertain and vulnerable." 
The exhibition title, Why Should I Hesitate, is taken from the artist's recent opera, The Head and the Load (2018). Read in the context of Kentridge's studio practice, Why Should I Hesitate is a question that stresses the importance of process over procedure or product. 
It is an attempt to draw out the artist's work from the uncertainties of legend, so it can be understood within the context of our ever-changing cultural climate: an exercise that resists inertia but is necessarily framed by doubt. 
Kentridge's specific musings have universal appeal. "While Kentridge remains dedicated to a South African narrative, his projects pose humanist questions of other such similar historical failures and other utopic possibilities for success. In this way, the exhibition may be viewed as a historiographic reading of the world over the last century," adds Tammy Langtry, curator of the exhibition. 
While the themes may be heavy, the lightness with which the artist poses questions (often unanswered) provokes thinking long after you complete the snake-like stretch that spans five independent spaces throughout the museum – Level 3, Level 1, Centre for the Moving Image, BMW Atrium, and a night-time projection in the Track Shed. 
It's interesting that one of the go-to names (when you think about South Africa's most prolific artists) grappled with calling himself an "artist". His artistic conviction and bravery are particularly relevant in our age where discourse has been democratised in a never-before-seen way. 
Interpreting the artist's journey in a way that we can all relate, Tammy Langtry explains that "with new media, art has become more democratic, allowing us to see art as a free way to construct the world around us." 
She says, in a way that takes a page out of Kentridge's book, that our past and present are "jumping points, from which to think new and make new, to experiment and to use our agency in unique ways." Outside of Kentridge's personal themes and particular interests, it's this universal truth that we can all carry out – like a little pen mark, made by the artist, on each of us. 
Talking on her personal journey curating the exhibition, Langtry admits that, after getting over the literal largeness of the source work, her next feeling was the pressure to 'get it right' and do justice to an artist of this stature. It's the kind of excellence and drive that electrifies our waterfront neighbourhood and keeps us at the forefront of important conversations.