Those of us lucky enough to have heard him play, would know that Reinhardt Buhr is one of our precinct's most prominent buskers. Initially he was only there for small periods of time, before becoming a more permanent fixture as he grew more serious about his gigs.
Reinhardt has joined our dynamic 'Buskers Programme' which allows artists the opportunity to perform in a safe and orderly space, and he believes the programme has allowed him to grow personally as well as professionally.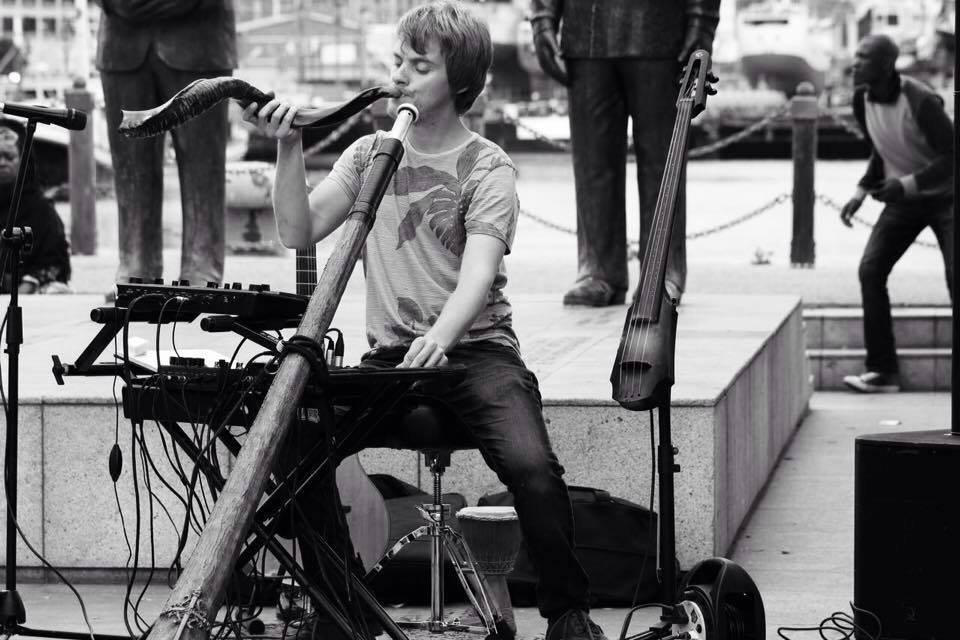 Reinhardt is supported by Matthew Andrews and Henry Mathys who run the Buskers Programme in a caring, professional manner.
Reinhardt says, "They treat everyone with kindness and respect and are truly passionate about the programme." 
By taking part in the programme, Reinhardt has learnt humility, perseverance and strength whilst forming close relationships with friends that have become like family.
Financially he now has more freedom to travel and increase his exposure through more bookings.
Participation in the Busking Programme has also an immense impact on Reinhardt's international following, due to it being an international hub, along with bringing opportunities like performance bookings and even a movie soundtrack deal.
"I cannot begin to express my gratitude for this programme and the people who run it. We get so much support and motivation from it that helps us grow as artists." 
Our Buskers Programme also organises workshops on a regular basis, teaching buskers more about business documents, marketing yourself and computer skills.
Not to mention the financial support they offer towards recordings, travels or studies.
The exposure at Waterfront is priceless and Reinhardt says he tries to give back by offering the knowledge he has gained to his fellow buskers through doing album recordings and live videos for some of them,
"Being a part of this program has brought only blessings into my life and I will be forever grateful!" 
Our Buskers Programme has helped Reinhardt travel to Europe twice in the last two years by providing him with documents that he needed for his visa application and by sponsoring his return flight tickets. This enabled him to invest more capital into his act itself and marketing himself.
"My first Europe tour in 2018 was extremely challenging but it was also very rewarding," says Reinhardt. "Sometimes the authorities, drunken people and territorial buskers made it more difficult to perform!" But, he adds, this year has been a dream because he was more prepared from the lessons he'd learnt in the past.
He'd also had the chance to build contacts and opportunities with a following that had kept growing from the first trip. 
"Busking in Europe is hardcore compared to the V&A Waterfront," Reinhardt says.
He explains that he has developed a great appreciation for the Waterfront's programme for two main reasons: the security that stops people from harassing artists while they play, and secondly, the schedule that eliminates territorial behaviour (which happens more often than not in Europe). He adds: "It's pretty much a free for all over there!"  
Adapting to another country has its challenges but Reinhardt managed to do it had plenty to say about the upside to busking in Europe, "On the other side of the coin, busking is engraved in their culture. Every day is different and that keeps it exciting.
There is something special about the spontaneous and unexpected gatherings that occur on the streets. People on their way somewhere, stopping for a while to connect with you and those around them. They forget about everything else."
Finally, Reinhardt says that the tours have been fulfilling and enriching experiences with memories that he will cherish forever. 
Here in our neighbourhood, our performers know what to expect and know they'll get the chance to play, "Busking at the Waterfront is almost glamorous compared to the streets – and the support from the Programme is amazing!"