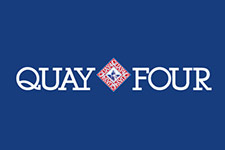 This Winter at Quay 4 Tavern:
Food Specials:
Quay 4 R99 Promo
We've put together your favourite R99 dishes:
SPATCHCOCK CHICKEN (char-grilled & basted with your choice of lemon & herb or Mozambican chilli sauce, served with fries & salad)
CALAMARI STRIPS (deep fried tender calamari strips served with tartar sauce, fries & salad)
FISH & CHIPS (deep fried hake fillet in our secret batter served with tartar sauce, fries & salad)
Tavern Seafood Platters to Share
Choose from our mouth-watering range of seafood platters to share including the Tavern Platter at R259, Breakwater Platter at R279, Inshore Platter at R299
And our bestselling Family Platter at R395. To share or not to share, that is the question…
Tavern Winter Set Menu Special
Quay 4 Tavern invites you to enjoy their Winter Set Menu Special: 2 Course = R145 & 3 Course = R175
Including main course favourites like Braised Springbok Shank, Hake and Calamari Strips and West Coast Mussels.
Entertainment:
Quay 4 Battle of the Bands '18
Date: 1 May to 28 August, every Tuesday evening
Time: 7pm to 9pm
Bands from all over the Cape will battle it out May to August, every Tuesday evening with the finale on the 28th of August 2018! Quay 4 proudly supports the local music industry…
Back by popular demand the Quay 4 Battle of the Bands is now open for band entries.
https://quay4.co.za/battle-bands-18/
Rockefellers
Date: Friday 15 June & Friday 24 August
Time: 8 to 9:30pm
When it comes to fun, high energy and party music the Rockerfellas is undoubtedly one of the most entertaining Mash-Up Party Bands in South Africa!
Famous rock classics with mashed up formats that no other band has done before! Expect a lot of smoke on stage, a lot of spandex and a lot of "singalong' fun.
Show starts at 8:00pm, but get there early to avoid disappointment!
SA Band Stand Sundays
Date: 30 April, 27 May, 24 June, 29 July, 26 August.
The last Sunday of every month, Quay 4  brings you big local talent in proud sponsorship with Smirnoff Vodka.
SA Band Stand Sundays features the likes of Majozi, Art Mathews, Wonderboom and Gerald Clarke to name a few.
*Quay Four supports local music talent! Keep an eye on our gig guide for more information April to August https://quay4.co.za/events/
Contact Details
Make a Booking - 021 419 2008