Join us for this exciting collaborative concert between these two young string ensembles joining to create a musical spectacle! The concert will feature works by Purcell, Warlock, Swayze, Sibelius, Jenkins and traditional Kwela songs. The ARCO Project, a long-distance learning collaboration between Royal Birmingham Conservatoire, United Kingdom is embarking upon it's very first whole project exchange, which will see 21 students travelling from Soweto to Cape Town especially for this concert. This collaboration gives a unique opportunity for emerging young talent from both Soweto and Rustenburg to work together and share musical ideas and thoughts.
The ARCO Project is an innovative alliance, established in 2015 between Royal Birmingham Conservatoire and Morris Isaacson Centre for Music, an inspiring institution in Soweto. The project consists of weekly individual instrumental lessons, mentoring and string quartet coaching delivered by a group of current students and recent graduates from Royal Birmingham Conservatoire via video conferencing system, ZOOM. Regular events occurring within Royal Birmingham Conservatoire's String Department, such as masterclasses, workshops and performances are streamed live to South Africa for the benefit of the MICM students. Throughout the year, Arco teachers from the UK travel to South Africa for live teaching in Soweto, and in addition ARCO Students travel to the UK to attend festival and courses to support their musical education and development. ARCO is supported by Birmingham City University and several generous organisations and donors. Please read more here.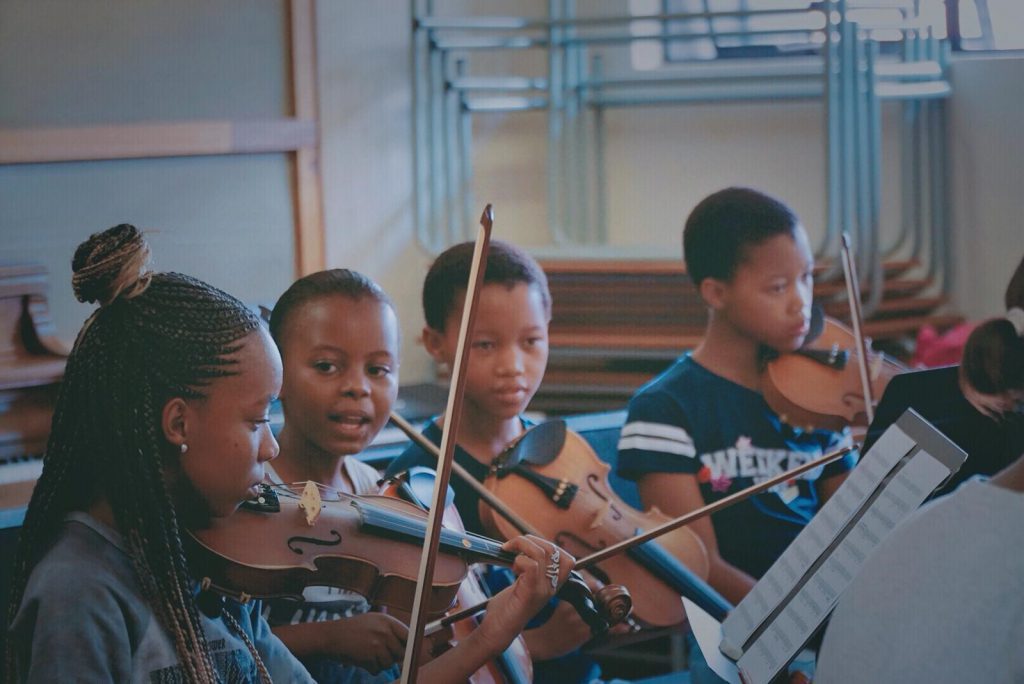 Rustenburg Girls High School String Ensemble is an all encompassing ensemble which includes all the string students who are at varying degrees of their development. The RGHS string ensemble has recently won Gold Medals at both the English and Afrikaans eisteddfods. The students perform at solo recitals and in smaller ensembles. They are also encouraged to play in the school orchestra that has recently performed Karl Jenkins, "Mass to the Armed Man" at the City Hall which was a collaborative work between Rondebosch Boys High School and SACS.