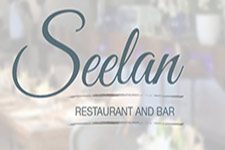 SEELAN WINTER WARMER JUNE TO SEPTEMBER
Tom Yum Hot & Sour Seafood Soup | R140
Live Knysna Oyster with House Bubbly | R 149
Two X 450g Prime Rbs with 2 Desserts | R400
2 X Tiger Prawn Platter  R 325 | 14 Tiger Prawn served with Peri Peri Sauce or Lemon Butter on a bed of rice
Cruise & Dine Menu  
Seafood Platter & 60 mins Afternoon Catamaran Cruise for 2  | R 849
X Crayfish Tail , 6 X Mozambican Prawns , Grilled & Fried Patagonian Calamari , 2 X Line Fish ,
8 X Mussels served with chips and rice.
Set Menu
Seelan Famous Curry Set Menu for two|  R299
Lamb and Seafood Curry served with Basmati rice and traditional condiments.
2 X Course Set Menu Choice of two| R 289
Crayfish tail and line fish Themidor , Served on a bed of rice.
Seafood Platter , Grilled line fish , Prawn and calamari & Fried Calamari , Mussels.
Asian BBQ Beef Short Ribs , Served with hand cut chips 
Half baby chicken with mushroom and truffle sauce , Served with hand cut chips
Seafood linguine with baby prawns, line fish , calamari and  mussels  
Trio of housemade dessert !