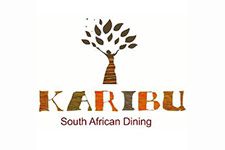 BRAAI PLATTER | R195.00
Venison Boerewors, Chicken Sosatie and Beef Rump Steak (220g) with a choice of a side dish
SURF AND TURF | R195.00
Beef Rump Steak (220g) and Calamari (200g) with a choice of a side dish.
2 Courses R165 or 3 Courses R195
STARTERS
BUTTERNUT SOUP
A creamy butternut soup infused with naartjie and fresh coriander.
OR
BOBOTIE SPRINGROLLS
Bobotie springrolls lightly fried and served with banana yoghurt and chutney.
OR
 FISH CAKES
Traditional Malay fish cakes served with chutney and sambals.
MAINS
BOBOTIE
A traditional Cape Malay dish. Aromatic beef mince, raisins and a savoury custard topping, all baked to perfection and served with celebration rice.
OR
 KARIBU FISH & WEDGES
Deep fried hake in a beer batter with a choice of potato wedges or salad.
 OR
 MALAY CHICKEN CURRY
 A fragrant, mildly curried chicken dish prepared with a classic blend of spices. Served on Basmati rice.
 OR
 VEGETARIAN WRAP Crunchy baby vegetables with tikka and coriander, wrapped in a roti and served with sambals.
DESSERTS
 MALVA PUDDING
An apricot sponge cake with vanilla sauce and ice cream.
OR
BRANDY PUDDING
 A taste of class! Infused with Cape brandy and served with a creamy brandy sauce.
OR
ICE CREAM AND CHOCOLATE SAUCE
Vanilla ice cream topped with Karibu's caramel chocolate sauce.
OR
KOEKSISTERS
Braided sweet and sticky twists. A tradition that goes back many years.
Contact Details
Make a Booking - 021 421 7005